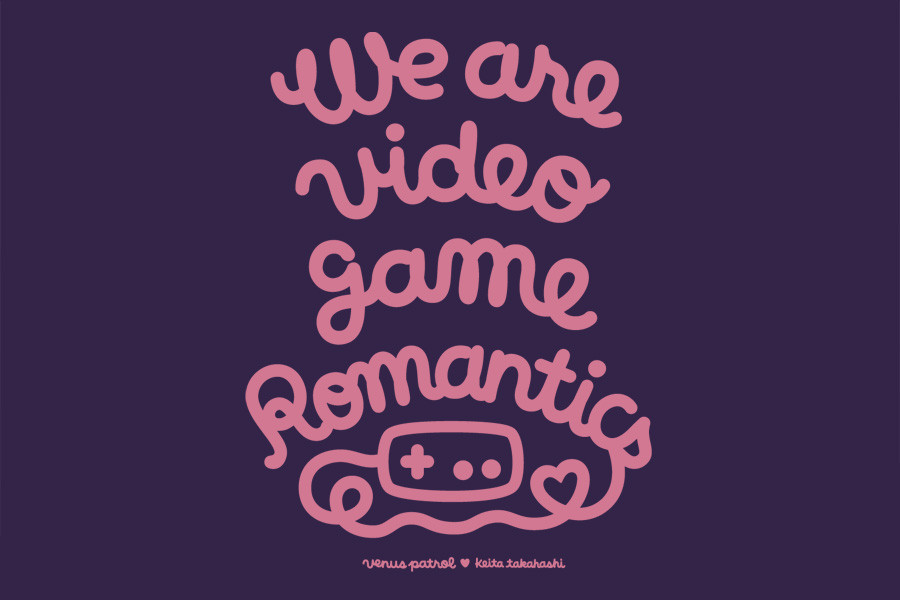 We Are Videogame Romantics T-shirt
In addition to developing Tenya Wanya Teens for the 2013 edition of the party Wild Rumpus & I throw at the Game Developers Conference each year, Katamari Damacy and Noby Noby Boy creator Keita Takahashi and I decided to take the collaboration one step further, with the creation of Videogame Romantics, our bespoke fashion brand.
The label was inspired by the speech Keita gave at GDC in 2006 (which was also the first time I'd met him), which you can read in full at Venus Patrol over here. In it, he says that even though videogames are a luxury compared to basic human needs, we still have the opportunity to use them to help change the world, because "we're videogame romantics with a naïve, pure, wonderful, and silly Love."
The first shirt released under the brand was a bold, declarative opening volley, which brands the user themselves as a videogame romantic.
Produced with the help of — and distributed exclusively by — Fangamer, a longtime favorite games-culture merch house, and printed by Forward (one of the best in the world), the shirt debuted at the party and online in three different colorways.
Along with the shirt, we debuted wearevideogameromantics.com, a blog where anyone who purchases a shirt can submit a photo of themselves in it, especially if you and your friends, say, went to The Price is Right in coordinated outfits.
You can purchase the shirt right here at the Venus Patrol Shop on Fangamer, along with all the other Videogame Romantics designs.
Co-conspirators:
Colorways:
Treasure (Black & Gold)
Octopus (Purple & Pink)
Sunset (Cream & Gradient)