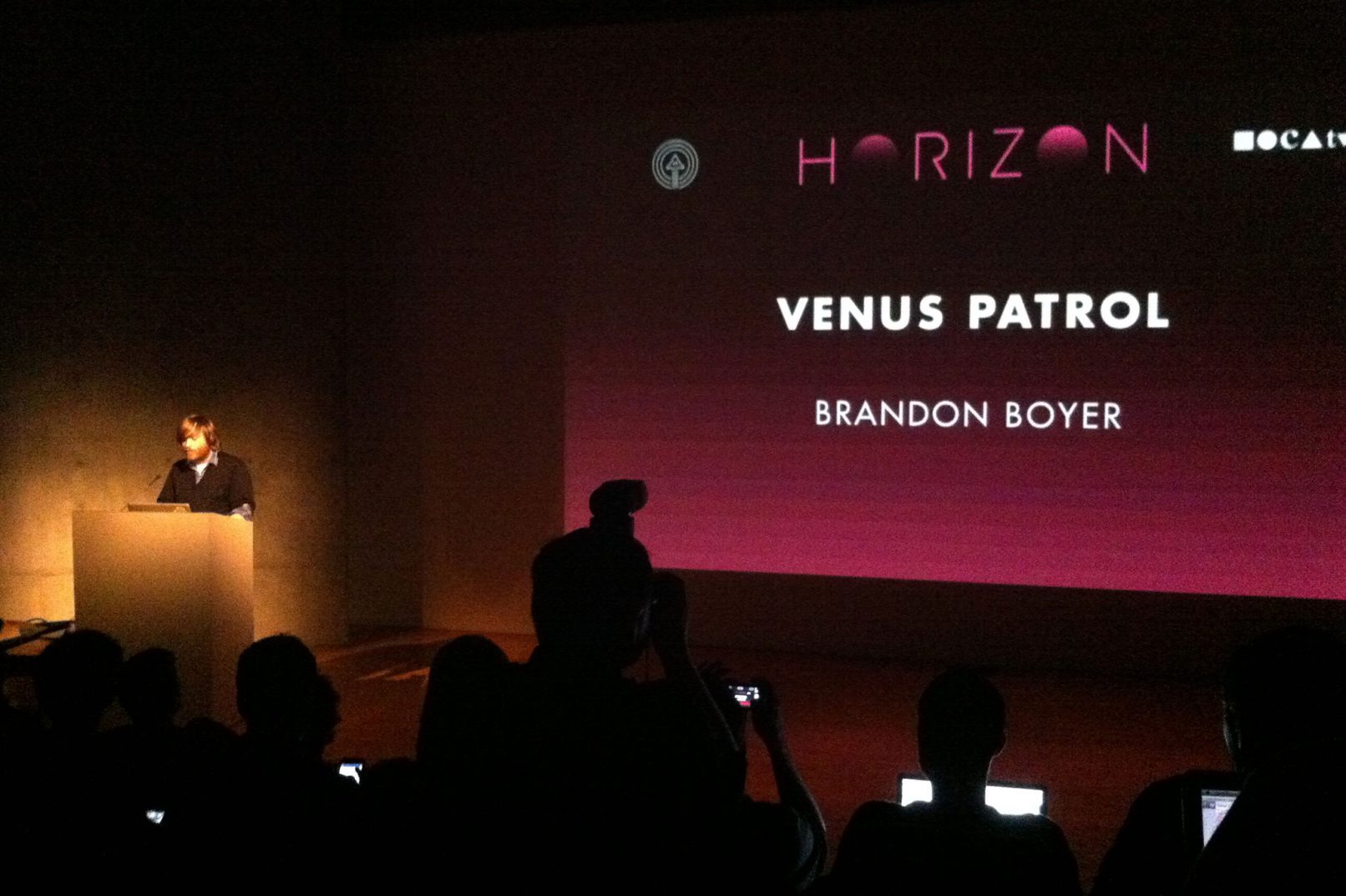 HORIZON 2013
It all started with a bad pun: while watching E3 press conference streams with designer Cory Schmitz, we lamented that there has never been a separate, smaller-budget Apple-style press conference for independent games at the expo. If someone had the wherewithal to organize it, we thought, it should definitely be called 'indie3'.
While the pun never stuck, I did muster the wherewithal in 2013 to use Venus Patrol as a springboard for exactly that. Held just a few blocks away from E3's lavish LA Convention Center digs at the Museum of Contemporary Art, we presented HORIZON: an hour-long keynote to introduce to the press and a live-streaming audience at home that year's best in-production or never-before-seen independent games.
With the help of Sarah Brin, who at the time was working with MOCA on their MOCAtv web series, we showed longer looks at or otherwise announced nine games. Most notably, HORIZON was the first time San Francisco-based Funomena had hired Katamari Damacy and Noby Noby Boy creator Keita Takahashi to design a new game for the studio, which a year or so later would be formally announced as Wattam.
Perhaps just as notably, the keynote ended — with a hint of Steve Jobs-ian flair — on a one-more-thing note: an amazingly stylized teaser trailer for Fez II, a follow-up to Polytron's hugely successful puzzle-platformer. The trick worked wonders: the announcement got coverage at IGN, EGM, PC Gamer, Rock Paper Shotgun, and nearly ever other outlet you can think of.
Maybe my favorite bit, though? Having the team at LittleBigPlanet creators Media Molecule create a custom version of Cory's HORIZON logo design in the papercraft engine of their Vita/PS4 game TearAway, which you can see below.
You can watch the keynote in its entirety below, or browse the full selection of games revealed at the show at the official HORIZON website.
Presented at:
Museum of Contemporary Art
Los Angeles, CA
June 13th, 2013
Co-conspirators:
Games Exhibited: