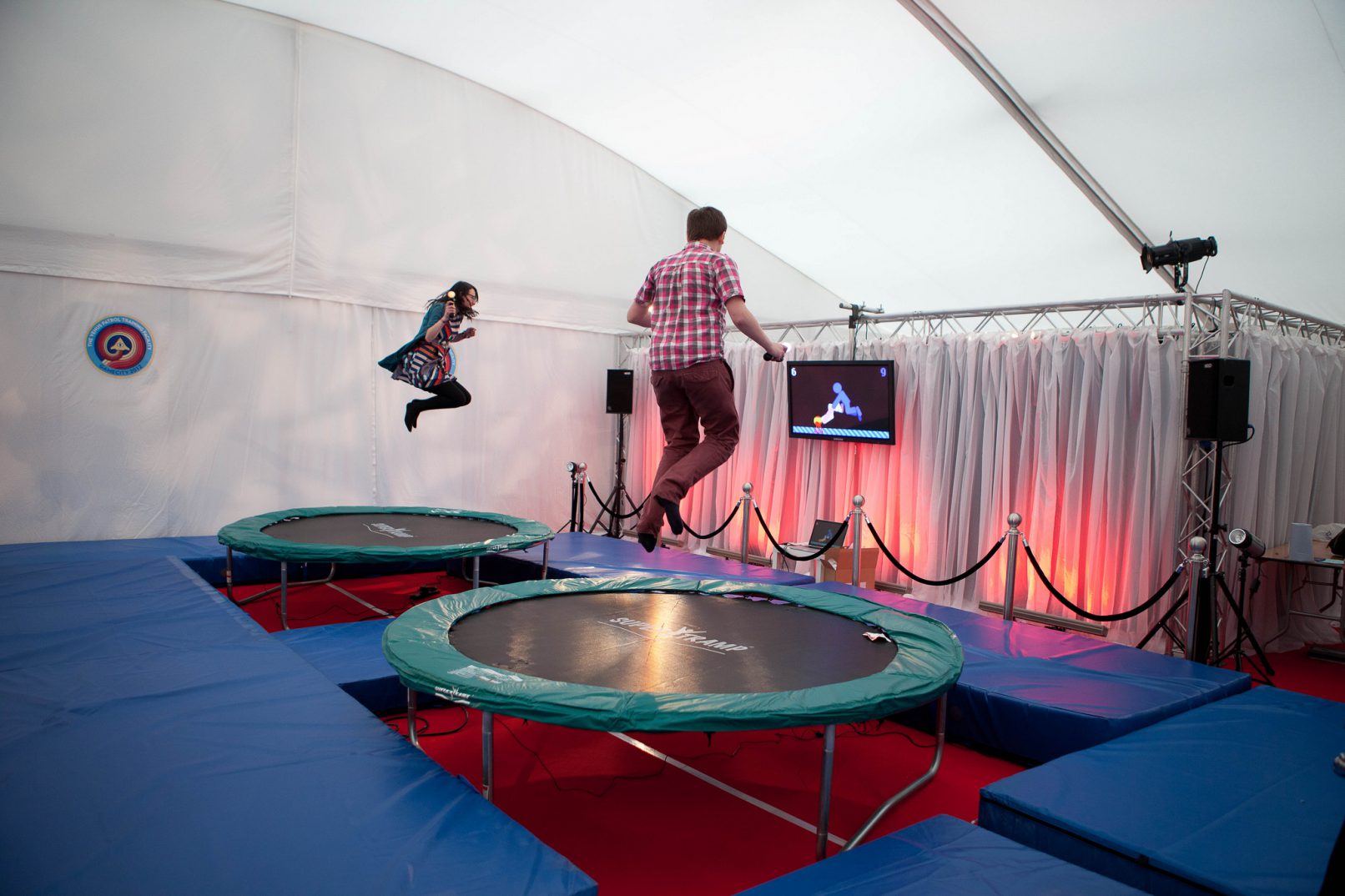 Venus Patrol Training Facility
With Venus Patrol finally launched, I was invited by UK festival GameCity to become part of its yearly public exhibition with what I would term the Venus Patrol Training Facility. The facility, built centrally right smack in the middle of Nottingham's town square, was curated to be slightly more sport-oriented than other events I've run.
The centerpiece was the dual-trampoline setup devised by QWOP creator Bennett Foddy, which utilized PlayStation Move controllers to detect player bounces, for his game Get On Top. The game became a hidden bonus inside the PS3/PS4 multiplayer game collection Sportsfriends.
The rest of the Sportsfriends lineup also became part of the Training Facility lineup, as did Proteus Frog God Mod, a version of Ed Key & David Kanaga's game created by Wild Rumpus's George Buckenham that let players move through the world from the vantage point of one of its frog inhabitants, by jumping on the Training Facility's trampoline installation.
Also at the Facility was a pre-release version of Passing Time, the PlayStation Mobile football game from Hohokum creators Honeyslug, and Mega-GIRP, Foddy's rock-climbing game played via a Dance Dance Revolution mat, courtesy of a mod by Johann Sebastian Joust creator Doug Wilson.
Hohokum illustrator Dick Hogg provided the custom Training Facility emblem, one of which made its way back across the ocean and now lives on my bathroom door.
Presented at:
GameCity 7
Nottingham, UK
October 20th through
October 27th, 2012