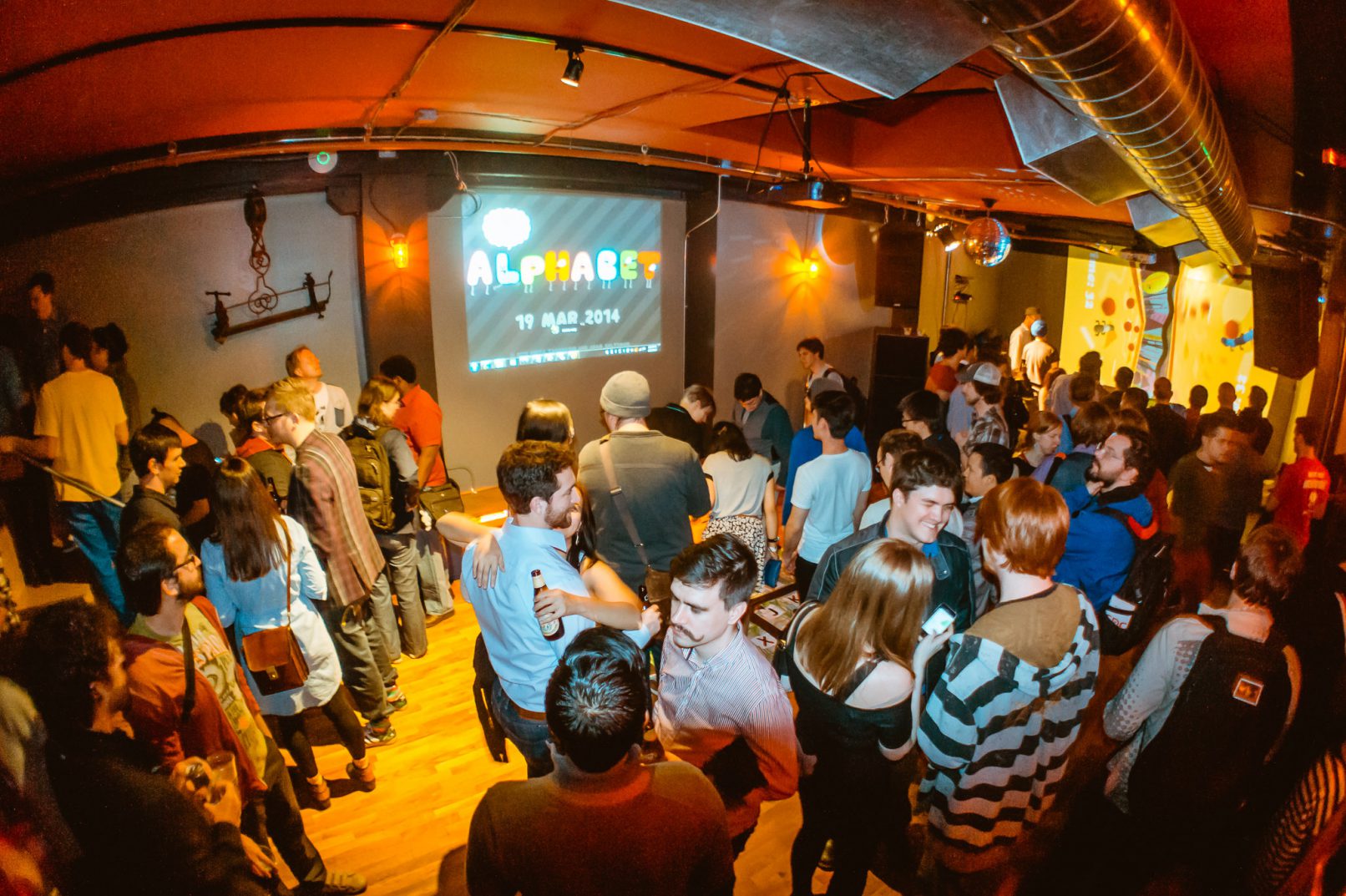 THAT PARTY 2014
Having developed Tenya Wanya Teens as an exclusive game for the 2013 edition of the Game Developers Conference party thrown by Wild Rumpus and myself, it again fell upon us to try and out-do ourselves again.
For 2014, Wild Rumpus's Marie Foulston suggested we reach out to Natasha Allegri, former Adventure Time animator who had just announced her own new animation series, Bee & Puppycat.
As with Keita Takahashi on Tenya Wanya Teens, Allegri jumped at the chance, and so I paired her off with Major Bueno, the German indie team who had just completed one game every month for the year prior, and whose designer, Marius Winter, had cut his teeth at Double Fine.
Thus was born MuscleCat Showdown, a multiplayer glamour-off in which players resolve schoolyard disputes by having their cats strike rapid-fire poses on command, which you can read about at much greater length over here.
Elsewhere at the party we had Nidhogg composer and renowned musician in his own right Daedelus working his audio magic with participants playing the game behind him, and a custom multiplayer version of Kyle Reimergarten's incredible game FJORDS in the "chill out room".
Not to leave him behind, we also included a custom dance-mat version of a new Keita Takahashi minigame, ALPHABET, co-created with Adam Saltsman (Canabalt, Overland), and debuted Push Me Pull You, from Australian indies House House, which would later make its way to PlayStation 4 and Steam.
Returning again on the music end was Kyoto's Baiyon and Philippe Lemarchand, and new this year was a DJ set by LA game collective Arcane Kids, who themselves would soon become mainstays of the yearly party, and whose incredible mix you can listen to right here.
Finally, this year also saw the return of a new T-shirt from Videogame Romantics, the fashion brand run by Keita Takahashi and myself, which you can read more about here.