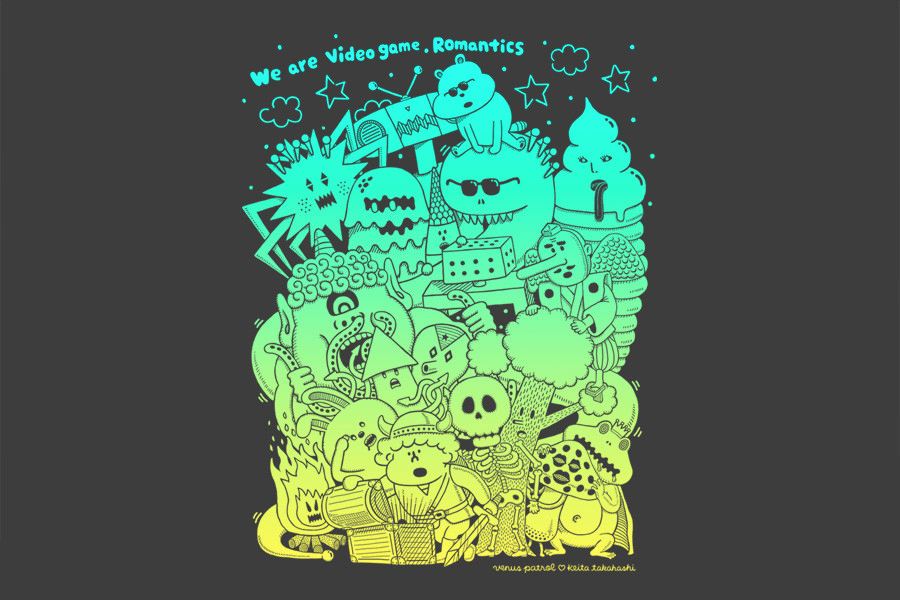 Romantic's Quest T-shirt
Following the original Videogame Romantics shirt, and the subsequent Legend of Romantics, Katamari Damacy and Noby Noby Boy creator Keita Takahashi and I once again partnered to create a third shirt released via producers Fangamer.
The shirt was released at the 2017 installment of our regular Game Developers Conference party, where our original stock sold through before the night was through.
Wanting to create something more bold and in-line with Western tastes, compared to the more understated Legend of Romantics, the third shirt features a full cadre of original monsters from Keita's imagined romantic role-playing adventure, printed oversized and in stark white or with a golden gradient.
As Keita explains on the store, the shirt was loosely inspired by a line that stuck with him from Nausicaä, the legendary Miyazaki manga: "Life is the light that shines in the darkness." All the shirts come with a free, bonus 1.25″ badge, about which Keita adds: "I guess the treasure was food or a sexy book."
You can purchase the shirt right here at the Venus Patrol Shop on Fangamer, along with all the other Videogame Romantics designs. All the shirts are now also part of Fangamer's localized web shop for Japan.
Co-conspirators:
Colorways:
Light in the Darkness (Gradient on Charcoal)
Emerald (White on Teal)