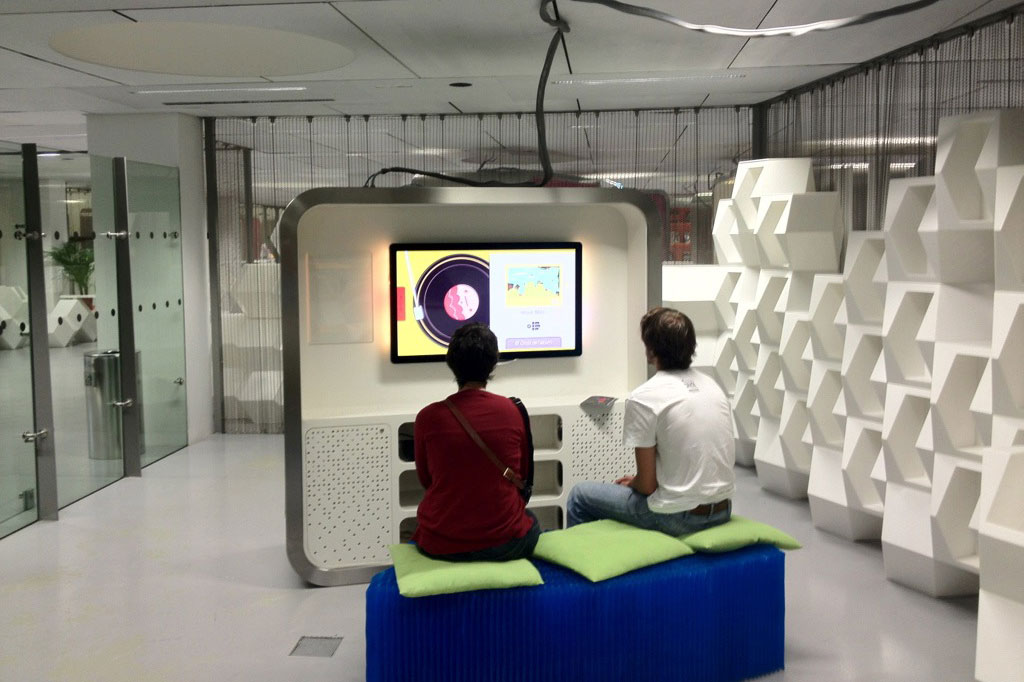 Venus Patrol Orientation Program
With the official launch of Venus Patrol just around the corner, I was invited to take part in Joue le Jou, a two-month exhibition of games at Gaîté Lyrique — Paris's "digital arts and modern music center" — curated by Heather Kelley & Cindy Poremba (part of the Kokoromi game collective) and Lynn Hughes.
For the final week of the exhibition, I went to Paris to open what I coined the Venus Patrol Orientation Program in a wing of Gaîté Lyrique, bringing with me a number of Venus Patrol-related games for open play by the public.
In addition to Neil Thapen's Venus Patrol, the namesake of the site itself, available to play were Vlambeer's Gun Godz and Adam Saltsman's Capsule (two of the games that accompanied the Venus Patrol Kickstarter), Steph Thirion's Faraway, Keita Takahashi's Noby Noby Boy, and — the biggest 'get' — Queasy's Sound Shapes for PlayStation 3, some weeks ahead of its PlayStation 3 launch.
With the help of Gaîté Lyrique's Oscar Barda & Théo Kuperholc, I also produced a small Orientation Program zine/catalog, which covered all of the games and the short #sworcery video program created by Superbrothers, which was produced for (and to date has only ever been seen by) that week's visitors.
The week concluded with the arrival of Katamari Damacy and Noby Noby Boy creator Keita Takahashi himself, who I introduced for a short Q&A session, the highlight of which was a tweet-interruption by Adventure Time creator Pendleton Ward after I'd shown that Keita had given a shout-out to Finn & Jake.
Following the talk, all attendees filled the front steps of the Gaîté, accompanied by none less than Another World creator Éric Chahi, who you can see below demonstrating to Keita his 3D chalk-art design technique.
Presented at:
Paris, France
August 4th through
August 10th, 2012
Co-conspirators:
Games exhibited: