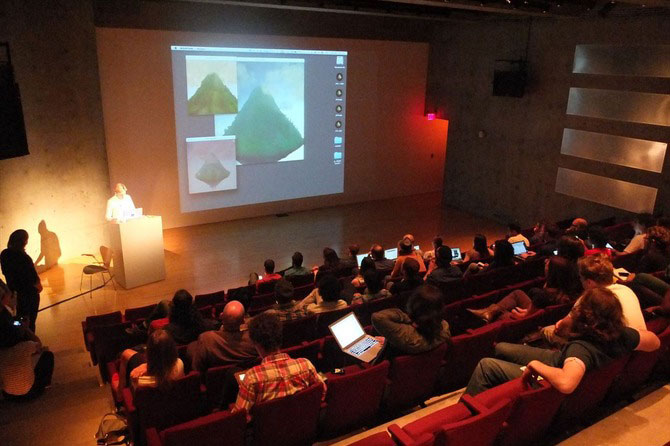 HORIZON 2014
HORIZON returned to LA's Museum of Contemporary Art following its 2013 debut with even more unannounced and or upcoming independent games, as maybe not so much an antidote to the amped-up bluster of the E3 expo as just a quieter alternative.
And just as the Fez II teaser trailer the year before captured nearly all of the attention of the assembled games, so this year had its megastar: David OReilly's Mountain, which was kept so tightly under wraps that even I had no idea what it was going to be until the morning before the show (and I'd even paired OReilly up with his programmer, Damien Di Fede, for the project).
It definitely helped that HORIZON fell just months after the release of Spike Jonze's film Her, which OReilly had helped create an fictional videogame for — that was just the angle the mainstream press needed to help explain why they were excited for a game in which you more or less passively played as a suspended rock.
The attending LA Weekly kicked off the coverage, and scores of press followed — you can find a huge listing on the official Mountain website.
Elsewhere in the show, we debuted Vectorpark's upcoming app Metamorphabet, which went on to win an Apple Design Award in 2015, and had extended live playthroughs of the now-critically-acclaimed Night in the Woods and Quadrilateral Cowboy, which took home the Independent Games Festival's top grand-prize award in 2017.
The conference, which you can view in full below, ended with musician David Kanaga revealing (in his inimitable style) the expanded selection of tracks and scenery available in Panoramical, the game he co-created with Fernando Ramallo.
You can view more information about HORIZON and all of the videogames that have appeared there on the official site over here.
Presented at:
Museum of Contemporary Art
Los Angeles, CA
June 12th, 2014
Co-conspirators: