WiiWare Young Those Summer Nights
Right, sorry for that title. Today's news will have been dominated, of course, by the announcement of a new model DS, most notable for bringing the WiiWare concept down to size with downloadable games of its own, though no solid word has come quite yet whether it'll herald in the same minor indie revolution as as its console counterpart.
Just how important WiiWare has been to helping indies find their voice has been fresh on my mind lately for a number of reasons: primarily as I've just this past weekend completed 2D Boy's World of Goo for an upcoming print review, a game I predict will make quite an oil-slicked splash even more so on its eventual WiiWare release than on PC. There's a lot I could (and am itching to, frankly) say about the game, but I'll let the 300-some ultra dense words I wrote on it do the talking, when they finally comes out, and you wouldn't want me ruining the best bits ahead of time, anyway.
Suffice it to say, I've had sustained a healthy man-crush on 2D Boy lead Kyle Gabler since the days when his Experimental Gameplay Project output made frequent and reliable Edge Online output, and even though WoG has moments that nearly drove me to book tickets to California to personally set fire to his car (he only has a bike, it turns out), from Chapter Four to the staff roll the love wholly came back anew. Be excited for this game full stop.
WiiWare this week has also been the blessed recipient of the revitalization of the bit Generations series, Nintendo's oft-forgotten attempt to sex up the release of the Game Boy Micro with a boutique collection of low-bit art games from Skip and Q-Games, each of which devoted a massive amount of cartridge space to partnering with various electronic outfits (just as Q would go on to do with their PixelJunk series), most prominently Cornelius's soundtrack for Coloris, which resulted in this delicious end-game video.
The re-release of Skip's bitG title Orbital (that soundtrack!) as Art Style: Orbient marks the first of what Nintendo has alluded to as a series of at least two more, and its first official introduction to the West, after pulling an appearing-disappearing-reappearing act for a solid year, debuting at E3 2005 as 'Digitylish' and on ESRB lists in 2006 as 'Digiluxe.' While I can't say I agree with the Art Style brand over bitG's, that NoA has finally found its long-overdue confidence to give the games a stateside debut deserves credit nonetheless.
Finally, buried in Nintendo's post-conference press release were two simple lines that Pixel's certified freeware hit Cave Story (pictured in the header above) would be coming to the service by this holiday season. Cave Story's another game that I'd tirelessly talked up in print and elsewhere on its original translation, and spent a good deal of time re-playing when it popped up again on the grey market tip for PSP. Easily the most polished freeware platformer of the past three years, again, it should go without saying that its eventual WiiWare release — which will feature new content — should be fully on your radar.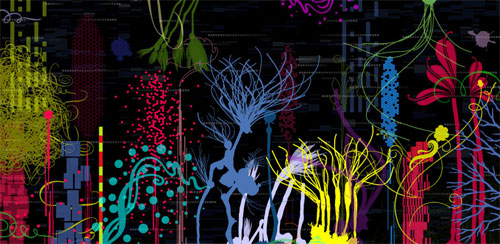 But WiiWare's been only a fraction of my gaming plate lately — from PixelJunk Eden, with its Baiyon soundtrack seeing a downloadable release via the PlayStation Network today (at a significant discount from its import CD price), to Newtonica, the iPhone's equivalent of a 22nd century Game & Watch game, from Chibi-Robo creator Kenichi Nishi with music by former Warp dark horse Kenji Eno (with my first submitted score now in free-fall [search for 'B00' with zeroes]) — these are exciting times indeed.