Google Got Games, And Still No One Noticed
It's true — I've been a bit slack in updating post-Austin GDC, as I'm still not quite up to speed, life-wise. Everything important is still inside boxes underneath other boxes behind other boxes, but I'm slowly getting there.
The conference itself was somewhat understated, but had its moments: for those that hadn't seen, I eked out some session coverage for UK business site gamesindustry.biz, notably breaking news that Arkane's local Austin branch was at work on an iPhone strategy game, and covering Bruce Sterli– err, NOT Bruce Sterling's curious but basically delightful futurist keynote (a full transcription is here), a panel on why URU: Myst Online failed commercially not once, but twice, the typically-cantankerous Chris Crawford yelling at his reflection about the state of story, Club Penguin's Disney-inspired roots, and, finally Google's somewhat bombshell news that it was indeed opening up its virtual world Lively to game developers.
That last point has been continually perplexing me in the week since, not least because the attendance at Google's session was so slim (save the notable presence of Areae's Raph Koster, quietly and hurriedly typing away at the back of the room). For a locale and a conference so heavily invested in the virtual worlds business, shouldn't the entrance of the most ubiquitous technology company in the world have competitors quaking and desperate to spy a glance at their future plans?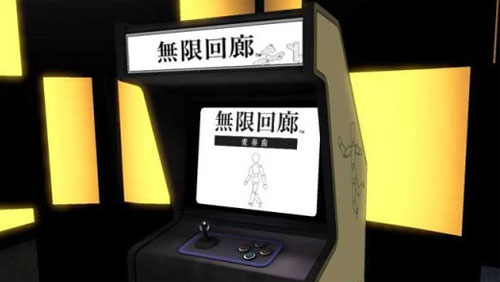 And those plans couldn't have been more clear — as noted in my coverage, Google's short term goals are to open Lively to let developers create interactive Google Gears for the space, a somewhat jargon-masked way of saying that web apps will be playable on the surfaces of in-world 3D objects. Art director Kevin Hanna offered virtual arcades — similar to those Sony has prepared for Home (pictured above with a version of its PSN/PSP puzzler Echochrome) — as the very least of the possibilities coming soon to the platform.
But beyond that, Hanna let slip that Google's long term prospects for Lively include opening up the platform itself to game developers — a fully featured web-embeddable 3D engine that, if guided properly, could reach Flash-like ubiquity in less time than we all might think.
I talked to Hanna for a good hour on the final day of the conference, for an interview that has yet to show up on GI.biz, and while he smilingly could "neither confirm nor deny" that Google itself was developing Lively 3D games projects internally, it shouldn't escape anyone's attention that the company has helped form the "game development studio" X-Ray Kid, helmed by former Warner Brothers, Disney, EA, Sony, Marvel Entertainment, and Microsoft talent, including Hanna himself (who's worked on Xbox titles like Crimson Skies and Shadowrun, and oversaw some 50 Disney Interactive games) and studio president Jeff Matsuda, who previously was a character designer for cartoons like The Batman and Teen Titans. It might lack the dream-team punch of more recognizable games industry celeb-designers, but it's a formidable bunch, to say the least.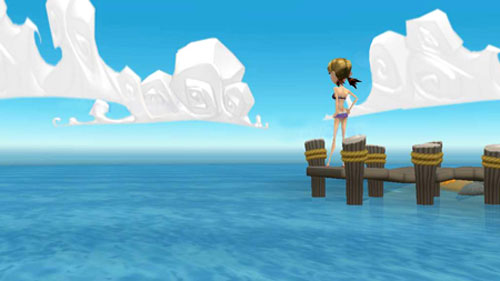 Maybe it's not all that surprising. Two years ago (concurrent with the formation of the Lively team, actually), Margaret did a bang-up job at looking at how Google was first dipping its toes in the industry water through Sketchup and ARGs (just prior to Goog's $23mil buy-out of upstart in-game ad firm Adscape) which went similarly unnoticed, save for the one now-forever-archived snotty comment.
It could be nothing more than the Google-beta-fatigue that's been remarked about on a number of tech blogs in the past week. As Hanna told me during the interview, there are very few ideas to be had that someone at Google isn't currently plugging away at in their 20-percent time, and the industry's pulling a wait-and-see on Lively's buoyancy before sounding the alarms. But with a stockpile of new content still being sat on, Google's not giving up any time soon.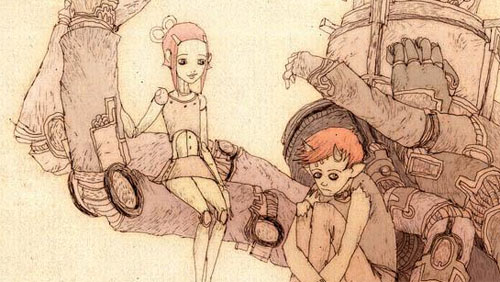 On a different note, after I shut the tape off on Hanna, we moved on to a number of less-Lively topics, and I soon learned that in his spare time he's also been hard at work in the comics arena, having just had his own original work, The Clockwork Girl, not only published, but optioned for a film by Telefilm Canada, on which animators have apparently already started production.
Even more excitingly (but only because he had a copy to give me at the conference), he has published another graphic novel though his own vanity label Frogchildren: Sixteen Miles To Merricks (found here on Amazon), by Barnaby Ward, who by Hanna's own description is a Brit toiling away in a tropical paradise in absolute obscurity (and who also supplied the Clockwork pinup above).
Thank heaven for Frogchildren, though, because the book is honestly quite stunning. Apart from his keen eye for doing idealistic girls that cut straight to my core, the dreamscapes peppered around the various stories within are gorgeously abstract. I'll leave you with the trailer so you can (mostly) see what I mean.